Relax, Refresh, Rejuvenate
Customized Spa Facials
60 minutes | 80
90 minutes | 110
Nourish your skin and drift away with this luxury customized facial. This treatment starts with an aromatherapy massage, for neck, shoulders, arms and hands, and flows seamlessly into a luxurious facial. Includes cleansing, exfoliation with alpha-hydroxy-acids or enzyme peel, extractions (if needed), steam, and customized mask, serum and moisturizer and sunscreen.
Facial Infusion with Nano Micro-Needling
90 Minutes | 135
DERMAL REJUVENATION SYSTEM
Facial infusion generates a 30 – day collagen production increase and is a wonderful option used to boost/speed the results of the Osmosis protocols. It is unique because it avoids damaging the epidermis by penetrating several high – dose active ingredients into the dermis through lipsomal delivery. Facial Infusion enhances results for blemishes, aging, rosacea, and hyperpigmentation and can be customized by adding powder blends and actives for increased correction.
Nano-Infusion uses a tip with mono-crystaline silicone nano-technology to boost transdermal delivery of skin care products to dramatically increase efficacy. Nano-Infusion creates microscopic channels in the outermost layers of the skin to allow better absorption of active ingredients. This allows your favorite skin products to achieve better results with no discomfort or downtime.
Recommended for best results: 3-6 sessions, every 2 to 3 weeks.
Benefits:
Dramatically boost the absorption and effectiveness of active ingredients
Assist in awakening the skin's collagen producing cells
Mono-crystalline silicone needle pins makes it non-allergic to human tissue
Cost effective compared to other exfoliating procedures
Can be performed on all skin types, including ethnic skin
It can be used on oily areas of the face, neck and body and even fragile skin around eyes and lips
Collagen Eye Treatment

20 minutes | 35
Add to Facial for 20
An intense hydrating mask that reduces the appearance of fine lines and wrinkles, tightens and smooths, leaving the skin under the eyes looking firmer and more supple.
Enjoy and ten-minute hand and arm massage, while the mask is treating the eye area.
Collagen Lip Treatment

20 minutes | 30
Collagen gel masks decrease the appearance of fine lines around the mouth.
Collagen gel masks are micro-infused with a combination of hyaluronic acid, natural high-density marine collagen, enzymes, amino acids, natural marine minerals, trace elements, proteins and vitamins C and E. With just one 20-minute application you will see improved elasticity, texture, and overall appearance of the lips.
Enjoy a ten-minute arm and hand massage, while the masks work on treating the lips.
Back Facial
60 minutes | 80
90 minutes | 110
This is a cleansing and purifying treatment for one of your most difficult to reach areas.  Includes a deep cleaning, exfoliating treatment , and light massage.
Chemical peels enhance and smooth the texture of the skin. They are effective for facial blemishes, wrinkles, and uneven skin pigmentation. They exfoliate the outer layers of dead skin, revealing a new skin layer with improved tone, texture, and color. In addition to full facial rejuvenation, The Green Peel by Dr. Schrammek can be used for spot treatments and to remove stretch marks or rejuvenate skin elsewhere on the body.
The Dr. Schrammek Green Peel
Fresh-Up (light peel)
Energy (medium peel)
Classic (deeper peel)
Consultation Required.
Call For Prices.
Lessen the appearance of skin irregularities and give new life to your skin with any of our specialized facial peels. With the new Green Peel treatments we can offer diversified treatment methods for restoring healthy and beautiful skin, at any age and for every skin type. Whether you need gentle refreshment, active revitalization or an intensive peel, you decide on the treatment goal.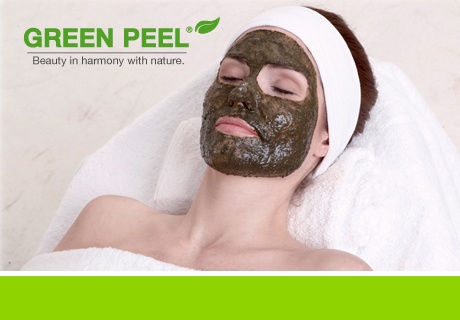 We're Growing!
Spaces available for Certified Estheticians, Lash Extension Specialists, and Massage Therapists. Please contact us if interested.