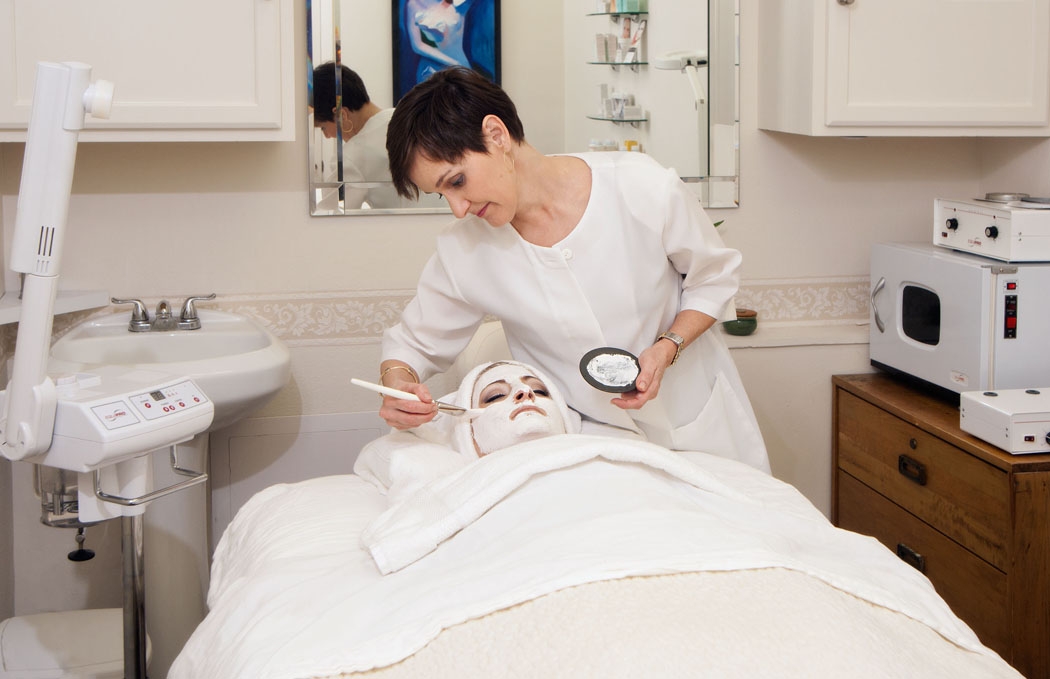 Whether you are seeking relaxing, rejuvenating spa facial or a corrective treatment we will customize each facial to what you want and need.
Clients fill out questionnaires so we can assess their particular concerns and obtain information about their skin's history.
An analysis of the clients' skin with the use of magnification allows for us to evaluate what is going on above and beneath the surface of the skin.
Recommendations are made and each facial's products are selected for what will be best for your skin.
We never do the same thing on every client!
We want you to get the most benefit you can from each treatment.
Facial Peels
Chemical peels enhance and smooth the texture of the skin. They are effective for facial blemishes, wrinkles, and uneven skin pigmentation. They exfoliate the outer layers of dead skin, revealing a new skin layer with improved tone, texture, and color. In addition to full facial rejuvenation, The Green Peel by Dr. Schrammek can be used for spot treatments and to remove stretch marks or rejuvenate skin elsewhere on the body.
Peel application added to facial: 40
Facial with peel: 80
Facial Infusion with Nano Micro-Needling
90 Minutes | 125
Dermal Rejuvenation system of restoring the skin to a more youthful, healthy, clearer , smoother condition without  harming the skin and without costing a fortune.
Benefits:
lessening fine lines and wrinkles
plumps the skin with added hydration
 stimulates fibro-blasts ( cells that produce collagen) and increases elasticity
thickens the dermis- the deeper layer of skin
lifts hyper pigmentation
reduces pimples and blackheads and clears congestion
increases nutrition in the skin
The Dr. Schrammek Green Peel
Fresh-Up (light peel)
Energy (medium peel)
Classic (deeper peel)
Consultation Required.
Call For Prices.
Lessen the appearance of skin irregularities and give new life to your skin with any of our specialized facial peels. With the new Green Peel treatments we can offer diversified treatment methods for restoring healthy and beautiful skin, at any age and for every skin type. Whether you need gentle refreshment, active revitalization or an intensive peel, you decide on the treatment goal.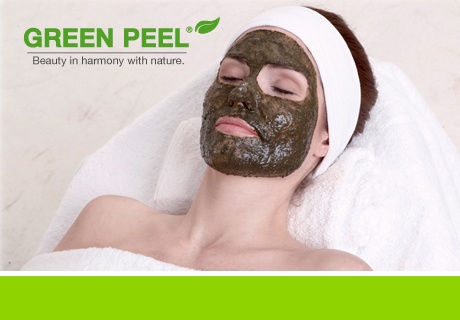 Luxury Spa Facial
60 minutes | 70
90 minutes | 95
Nourish your skin and drift away with this luxury customized facial. This treatment starts with an aromatherapy massage, for neck, shoulders, arms and hands, and flows seamlessly into a luxurious facial. Includes cleansing, exfoliation with alpha-hydroxy-acids or enzyme peel, extractions (if needed), steam, and customized mask, serum and moisturizer and sunscreen.
Collagen Eye Treatment

20 minutes | 30
Add to Facial for 15
An intense hydrating mask that reduce the appearance of fine lines and wrinkles, tightens and smoothes leaving the skin under the eyes looking firmer and more supple.
Enjoy and ten-minute hand and arm massage, while the mask is treating the eye area.
Collagen Lip Treatment

20 minutes | 30
Collagen gel masks decrease the appearance of fine lines around the mouth.
Collagen gel masks are micro-infused with a combination of hyaluronic acid, natural high-density marine collagen, enzymes, amino acids, natural marine minerals, trace elements, proteins and vitamins C and E. With just one 20-minute application you will see improved elasticity, texture, and overall appearance of the lips.
Enjoy a ten-minute arm and hand massage, while the masks work on treating the lips.
Back Facial
60 minutes | 70
90 minutes | 95
This is a cleansing and purifying treatment for one of your most difficult to reach areas.  Includes a deep cleaning, exfoliating treatment , and light massage.